CNBE is located in Dartmouth Ma. at the active Crapo Hill Landfill. It is a 3.2 MW facility utilizing the power of (4) Four Caterpillar G3516 dry manifold SI engines. It distributes power to EVERSOURCE. It is one of the newest Landfill gas to energy facilities in the state of Ma. It is owned by Commonwealth Resource Management Corp.

CommonWealth Landfill Gas Project Wins National Award: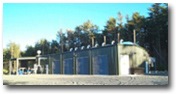 The Greater New Bedford LFG Project, a 3.2 MW electric power generating facility owned and operated by a CommonWealth subsidiary, has been recognized for excellence in LFG utilization facility design and operations by the Solid Waste Association of North America (SWANA). The Project is located in Dartmouth, Massachusetts, at the Crapo Hill Landfill, which is owned and operated by the Greater New Bedford Regional Refuse Management District. When operating at full capacity, the Project generates approximately 26 million kilowatt hours (kWh) of electric power output for sale per year, enough to meet the electric power requirements of 2,000 to 3,000 typical New England homes. Operation of the Project also prevents up to 330 million standard cubic feet of methane, a powerful greenhouse gas, from escaping to the atmosphere each year, while reducing the potential for off-site LFG migration.